Role: Cleans and services church areas to ensure the safety, health, and morale of the
church. Responsible for removal and general cleaning to include mopping,
vacuuming, dusting, and meeting/event set-up/breakdown. Provides a clean,
attractive, and safe environment for the church.
Position: Full-time, Non-Exempt
Reports to: Facility and Property Operations Manager
Oversight to: Custodial Duties
Responsibilities:
1. Will help manage the cleaning and maintenance of the building and grounds with
the Property Manager.
2. Will help the Property Manager work with contractors, subcontractors, and other
vendors on the buildings/grounds projects.
3. Work with outside groups using the church facilities to ensure proper care is
given to church property, and manage any contracts or agreements with those
groups.
4. Help manage volunteer teams who help with setting up, tearing down, and
cleaning for events the church puts on.
5. Lock and unlock doors and gates as appropriate; maintain security of the
building; turn alarm system off in the morning and on in the evenings as directed.
6. Operate cleaning equipment such as vacuums, floor stripper, cleaning, buffer and
polisher, carpet shampooer, scrubbers, high-pressure sprayer, manual and power
sweepers and power blower as assigned.
7. Perform related duties as assigned.
Qualifications:
1. Personal
a. A committed Christian living in accordance with the Word of God whose moral
character models the Christian lifestyle.
b. Agree with the doctrinal statement and abide by the by-laws of our church.
c. Demonstrates oral communication skills required to interact effectively with
church members and staff.
d. Demonstrates ability to prioritize tasks.
e. Basic knowledge of computers, mobile devices, and software applications
required.
f. Organized and efficient with time.
g. Is a learner and is willing to learn new approaches to accomplish tasks.
h. Is willing to obtain appropriate training and practical experience to perform all
duties as stated above.
i. Maintain regular and predictable attendance.
Skill Requirements:
1. PHYSICAL AND ENVIRONMENT DEMANDS:
a. General Work Environment: Occasionally required to work outdoors, in a
cold environment and in a hot environment (90-100 degrees Fahrenheit).
b. Personal Requirements: Job requires good communication skills.
Frequently requires working in high-stress situations. Occasionally
required to work overtime and irregular schedule.
i. Vision, Speech and Hearing: Job requires color discrimination,
good reading vision and good distance vision. Occasional
peripheral vision is required.
c. General Physical Mobility: Job requires constant standing and walking.
Frequently requires bending, stooping, crouching and kneeling.
Occasionally requires climbing stairs and ladders.
d. Specific Physical Mobility: Job requires use of hands, arms, legs and feet.
Frequently requires reaching overhead, horizontally and downward,
gripping with the hands, pushing with the hands or arms, and pulling with
the hands or arms. Occasionally requires pressing with the hands or arms.
e. Weight Handling Requirements: Routinely required to lift up to 50-90
pounds. (setting up for events)
f. Protective Clothing and Equipment: Job requires use of gloves or hand
protection. Recommended use of safety glasses or eye protection and
face shield or facial protection when using chemicals or in contact with
dust.
g. Chemical Hazards: Job requires work with sprays, mists or vapors.
Occasionally requires work with fumes, chemicals and chemical irritants.
h. Inspect and assure the security of facilities during assigned shift.
i. Shovel, plow, walk and steps as directed.
Preparation Requirements:
1. High School diploma or equivalent or higher preferred.
2. Custodial work preferred
Colesburg Baptist Church: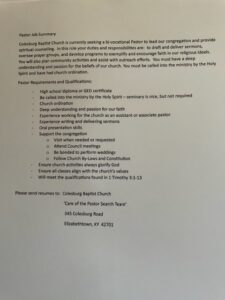 Job Description For:
Part Time Youth Leader
POSITION: Paid Part-Time Youth leader at RTBC. Flexible hours, to be negotiated with the Pastor and Deacons.
PURPOSE: The purpose is to minister to the youth of our church in grades 6-12. Through working with the Children's/Youth committee, administer, develop, and implement youth ministry programs designed to meet the spiritual, social, and emotional needs of the youth, leading them to spiritual commitments and disciplines.
EXPECTATIONS and RESPONSIBILITIES include, but are not limited to:
Regularly communicate and meet with the Children's and Youth Committee to develop the Round Top Youth Program.
A Christian with a heart for the Youth
Pray for the youth.
Conduct yourself in a Christ-like manner and demonstrate high Biblical standards with your own life as you teach youth.
Establish meaningful personal relationships with the young people in the congregation and community by investing in their lives, such as attending lunch at the area schools and attending their extracurricular activities (ie: sporting events, concerts, school plays, and awards ceremonies).
Plan and attend weekly activities for the youth during the school year that include Bible study, worship, fellowship, and fun! The activities need to be relevant and effective in instructing, training, nurturing, and equipping youth for leading a Spirit-filled life of faith and forging deep Christian friendships.
Provide hands-on opportunities for service projects and mission trips for youth to learn how to live out their faith in helping meet the needs of others.
By working with the Children's and Youth committee, plan, implement, and attend special summer events such as concerts and retreats and also plan, organize, and attend youth camps & conferences.
Regularly attend and teach the youth Sunday school class and weekly Youth Group meetings.
Recruit and develop adults within the congregation to serve as committed mentors.
Work effectively with parents to foster support of the youth program, including ongoing communication to provide opportunities for input and feedback.
Work alongside the children's/youth committee and other church staff members, attending staff meetings and sharing in the vision and ministry in which RTBC has been called.
ACCOUNTABILITY: The Youth leader will be accountable to the Pastor and the Deacons.
COMPENSATION: $5500.00 per year
First Baptist Church Hodgenville
Ministerial Assistant to Children, Student, and Discipleship ministry
Hours: Part-Time
Overview: This position provides administrative support for children and youth activities at First Baptist Church Hodgenville.
Position Expectations:
Coordinate and schedule volunteers for activities including, but not limited to, Nursery, Children's Church, PURE Ministries, Faith Athletics, and Vacation Bible School
Complete and submit purchase orders for children and youth activities.
Monitor completion of criminal background checks for all volunteers
Coordinate all paperwork required for children and youth camps.
Coordinate transportation and insurance paperwork required for children and youth activities.
Ensure all supplies are stocked for children and youth activities, including, but not limited to, small groups, church nursery, Children's Church, and Wednesday night activities.
Serve as communication liaison for children and youth staff.
Experience & Skills:
Excellent communication skills
Strong time management and organization
Able to effectively collaborate with church staff and volunteers.
Self-starter with ability to multi-task
Children's Coordinator Job Description
The Children's Coordinator at First Baptist Church Hodgenville is the ministry leader to children.
birth-5th grade and their families. The coordinator is responsible for planning, implementing, and evaluating the ministry for the children of First Baptist Church and the community, while coordinating with the overall ministry of the church.
Supervisor: Senior Pastor
Responsibilities:
Attend staff meetings, communicate with church staff, and coordinate ministry activities.
Meet with and utilize the Children's Committee to lead, plan, organize, and appoint volunteers in children's ministry areas.
Plan and direct opportunities for bible study and worship for Wednesday night classes, Sunday school, PURE Ministry and children's church.
Implement worship and leading music that the children could perform in church service.
Ensure a safe environment for children to learn and for the parents to have confidence in entrusting them to our care.
Give guidance so that the building facilities in the children's area are up to date and well stocked with all supplies needed.
Minister to parents during important life events involving their children, i.e. births, salvations, graduations, illness, time of grief, and large other milestones.
Coordinate with FBC Little Lights childcare center to ensure smooth transitions for shared space and as an outreach opportunity.
Provide curriculum and seek out volunteers in the following areas.
Nursery
Children's church/PURE ministry
Wednesday Night Activities
Sunday School (curriculum only)
– Assist with leadership and organization of
VBS
Faith Athletics
Centrikid camp
Seasonal events (Easter, Summer Activities, Fall Festivals, Christmas Celebrations.)
Community outreach activities
Intentionally share the gospel with children and their families and provide age-appropriate discipleship opportunities.
Seek opportunities to minister to FBCH and community families.
Skills
Organized
Energetic
Creative
Good communicator
Leadership
Delegator
Leadership
Middle Creek Baptist Church
We are seeking a youth minster/leader for a part time position. We need someone who feels called to work with youth. You would be starting a new youth group. Would be expected to teach Sunday School on Sunday Morning and meet on Wednesday evenings. With an activity for youth maybe twice a month. We will discuss pay during an interview. If you have been called by God to do ministry here is a perfect opportunity to begin ministering and doing what God has called you to do. CONTACT Jim Webster 270-401-2339